Eating healthy is sometimes intimidating for the average, overworked and incredibly busy individual, and when a family is involved – it's that times however many people are in the household. And that's not even following a structured diet if you have some sort of goal in mind.
Enter Kitchen Matters and the philosophy of the author, Pamela Salzman. Her approach is by eating well (and simply), you'll live and be well. And just get started! She makes a very important statement when she says don't beat yourself up for serving a frozen pizza for dinner one night when the important thing is what you do most of the time that really matters.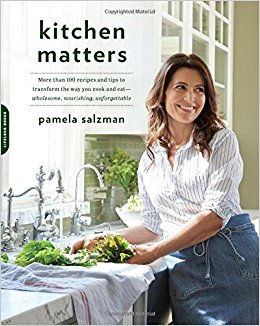 Healthy Eating Shouldn't Be Intimidating
Her recipes rely on whole foods (foods that exist the way it came into the world, no processing). Reading Kitchen Matters, I was inspired by her approach to healthy eating – no 'diets' here, but instead a genuine focus on using good foods. I'm a busy mom with three active kiddos, and that is how I like to approach cooking as well. Less processed and more whole foods. And if you're a busy parent who has run into the habit of take out too often but are worried that eating good is hard or complicated, get yourself organized.
Salzman writes:
We need to get your pantry and refrigerator stocked with healthful ingredients that are key to making nutritious recipes. But to get there, the secret is being organized…If you feel overwhelmed by all of this, you can and should start small. Make a few pantry swaps or buy one new food to try. If you currently don't cook at all, set a goal of cooking dinner once per week until you can handle cooking twice. Making one small change at a time will help lead to lasting habits down the road.
Bingo. And Salzman makes that easy with great tips for maintaining a well-stocked kitchen, creating a weekly meal plan, and advance prepping of certain ingredients. Recipes are not hard and include these types: vegan, vegetarian, dairy-free, and gluten-free – as well as recipes being adaptable with ingredients that can be changed up to be any of these.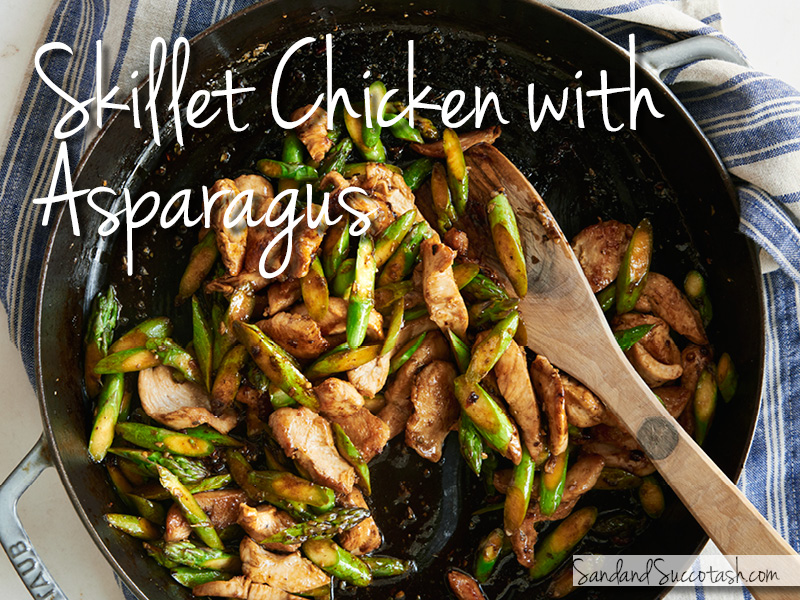 Recipes Focus on Whole Foods
Kitchen Matters cookbook contains these sections: Better Breakfasts; Snacks and Drinks; Satisfying Soups and Stews; Vibrant Vegetables; Great Grains and Starches; Beyond the Leaf Salads; Main Dishes; Desserts; and Basics. She also includes suggested seasonal meal plans, and a very handy guide to roasting common vegetables (love love love!).
Recipe highlights include Balsamic-Herb Flank Steak, Greek Nachos (with hummus and tzatziki), Wild Halibut Burgers, and Sweet Potato Chocolate Pudding. Her Slow Cooker Chicken Bone Broth is another great recipe to try.
A really great book for busy families wanting to cook healthier without worrying about trying to follow a 'diet.' Salzman's step-by-step approach to good cooking makes eating better accessible to everyone.
Here's a tasty recipe to try. It is dairy-free, and gluten-free adaptable.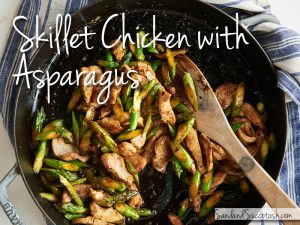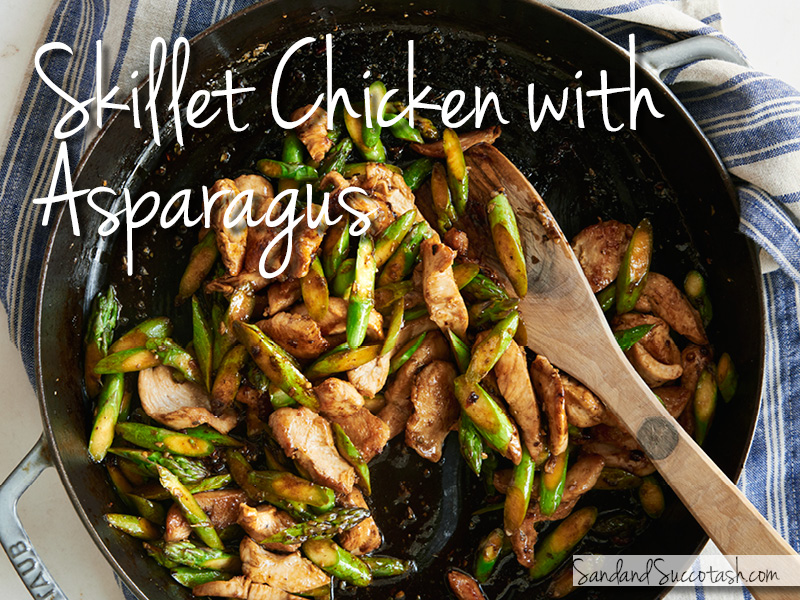 Print
Skillet Chicken with Asparagus
Yield 6 servings
This simple chicken recipe is for when you need something simple to prep and quick to cook. Asparagus is just one vegetable of many that will work here. Broccoli, cherry tomatoes, zucchini, and sugar snap peas are all good alternatives. This dish goes great with two other recipes from the book: Millet and Cauliflower Mash or roasted sweet potatoes (from the handy chart).
Ingredients
3 boneless, skinless chicken breasts (about 2 pounds), cut into 1/2-inch slices, or 2 pounds boneless, skinless thighs
1 1/2 teaspoons sea salt
A few grinds of black pepper
2 teaspoons arrowroot powder
1/2 cup chicken stock, bone broth, or vegetable stock
3 tablespoons balsamic vinegar (not aged)
1 tablespoon shoyu (not GF), tamari, or coconut aminos
2 tablespoons unrefined, cold pressed extra-virgin olive oil or coconut oil
2 bunches asparagus, bottom ends snapped off, stalks cut into bitesize pieces
4 garlic cloves, chopped
1/2 teaspoon dried oregano
Instructions
Pat the chicken dry with paper towels and season with salt and pepper.
In a small bowl or liquid measuring cup, whisk together the arrowroot powder and chicken stock. Add the vinegar and shoyu. Set aside.
Heat a large skillet over medium heat and add 1 tablespoon the olive oil, or enough to just coat the bottom of the pan lightly. (If you use too much oil, the chicken won't brown well.) Add to the pan as many chicken pieces as will fit in one layer without crowding. Brown the chicken on both sides and until almost cooked through, 3 to 4 minutes. Transfer the chicken to a bowl. Repeat with the remaining chicken, and once browned on both sides, transfer to the bowl of cooked chicken.
Add the remaining tablespoon of oil to the skillet and toss in the asparagus. Saute until crisp-tender, about 3 minutes. Add the garlic and oregano and saute until fragrant, 30 to 60 seconds.
Add the chicken back to the skillet with the chicken stock mixture. Bring to a simmer and scrape the bottom of the skillet with a wooden spatula to dislodge any bits stuck to the pan.
Saute until the chicken is cooked through, another minute or two.
Notes
Excerpted from Kitchen Matters: More than 100 Recipes and Tips to Transform the Way You Cook and Eat—Wholesome, Nourishing, Unforgettable by Pamela Salzman. Copyright © 2017. Available from Da Capo Lifelong Books, an imprint of Perseus Books, LLC, a subsidiary of Hachette Book Group, Inc.
Book Info:
Disclosure: This book was provided by the publisher and any opinions are my own. Affiliate links help to support the site. Thanks 🙂