"Discover the Way of the Salad!"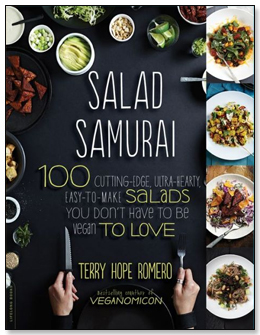 There are a few reasons why I love Terry Romero's cookbooks: engaging text, downright delicious recipes, and the fact that you don't even have to be vegan to enjoy what she makes. It's actually included in the name of her latest cookbook: Salad Samurai: 100 Cutting-Edge, Ultra-Hearty, Easy-to-Make Salads You Don't Have to be Vegan to Love. Salad Samuri is no change from her previous works (Veganonmicon; Vegan Pie in the Sky) in that there is fun for everyone.
Salad Samurai: Salads by the Seasons
Romero dives right into salads by talking about 'The Salad Samurai Code' with tofu pressing, portability and storing, ingredients, and seasonality. This leads the reader to see how she breaks down her book, mainly by the seasons. And don't think salads are strictly for the long, hot, dog-days of summer. Winter and fall recipes include Smokehouse Chickpeas 'n Greens Salad, Sesame Noodles in the Dojo, and Seitan Steak Salad with Green Peppercorn Dressing, which are hearty for anytime of the year.
Meal planning is important but pretty dull, and Romero attempts to make it fun (She succeeds! Who likes to menu plan? My hand will remain down!), and provides tips on how long as a general rule certain components should be kept with a plan for tackling salad menu planning.
Fun & Resourceful Supporting Recipes
Ok, her recipes are great, but all the supporting recipes are what makes the book gold and a valuable kitchen resource for me. I love this book for all of the separate supporting recipes that I can mix and match, and totally beef up my old, tired favorites – her dressings and 'seriously hearty salad toppings' are the bomb: Pickled Red Grapes and Roasted Hemp Seed Parmesan are keeps for more things than simply salads.
Here is a tempeh recipe to try from the book. The accompanying Roasted Hemp Seed Parmesan (look for the recipe in the book) is a supporting recipe, and an example of what makes this book gold.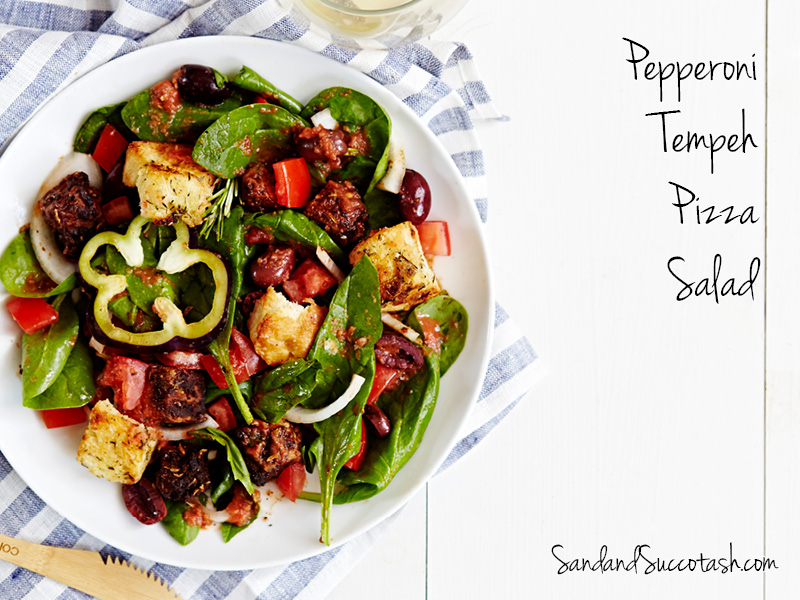 Pepperoni Tempeh Pizza Salad
2015-01-17 17:33:16
Serves 2
If a layer of pizza is the foundation of your food pyramid, toss this zesty salad into your well-balanced diet: "pepperoni" tempeh nuggets, fresh basil, olives, onions, and a vibrant pizza "sauce" dressing are served up not on a crust but on a robust blend of spinach and arugula. Guilt-free and gluten-free, it will leave you feeling great about having another slice, er, salad bowl. Perfect as is, but decadent with a dusting of Roasted Hemp Seed Parmesan (page 35 in the book).
Dressing
1 (14-ounce) can fire-roasted diced tomatoes with basil and garlic (do not drain)
1 tablespoon balsamic vinegar
1 tablespoon olive oil
2 cloves garlic, peeled
1 teaspoon dried rosemary
1 teaspoon dried oregano
1/2 teaspoon salt
Pepperoni Tempeh Bites
1 tablespoon sweet paprika
2 tablespoons tamari
1 tablespoon red wine vinegar
1 teaspoon garlic powder
1 teaspoon fennel seeds
1/2 teaspoon freshly ground black pepper
1 tablespoon olive oil
8 ounces tempeh, diced into 1?4-inch cubes
For the Salad
2 cups baby arugula
3 cups spinach
1 cup lightly packed fresh basil leaves, torn into bite-size pieces
1 cup plain toasted pita chips or Classic Croutons (page 39)
1/2 cup pitted, chopped Kalamata olives
1 sweet onion, sliced into half-moons
1 teaspoon dried oregano
2 tablespoons Roasted Hemp Seed Parmesan (page 35)
Instructions
Set aside 1/2 cup of the diced tomatoes for the tempeh bites. Add the remaining tomatoes and the rest of the dressing ingredients to a blender and pulse until smooth. Chill the dressing until ready to use.
In a small bowl, whisk together the reserved 1/2 cup diced tomatoes with the paprika, tamari, vinegar, garlic powder, fennel, and black pepper. Preheat the olive oil in a cast-iron skillet over medium heat. Add the tempeh and sauté for 4 to 5 minutes, until browned, then stir in the marinade. Fry for another 3 minutes, until the tempeh is sizzling and most of the marinade is absorbed, then remove from the heat.
Add to a large mixing bowl the greens, basil, pita, olives, onions, and oregano. Pour over half the dressing and toss to combine. Divide the salad into serving bowls, top with the tempeh, and serve with the remaining dressing. Sprinkle each serving with hemp parm.
Notes
Prepare the dressing up to 2 days in advance and keep chilled in a tightly covered container. You can also make the tempeh the night before and gently warm it before assembling the salad.
Sand & Succotash http://www.sandandsuccotash.com/
Book Information:
Disclosure: This book was provided by the publisher (thank you!) and any opinions are my own.
Recipe and image from Salad Samurai: 100 Cutting-Edge, Ultra-Hearty, Easy-to-Make Salads You Don't Have to Be Vegan to Love by Terry Hope Romero. Reprinted courtesy of Da Capo Lifelong Books.