If worrying about not getting enough protein in your diet is the only thing holding you back from becoming vegan, Protein Ninja dispels that worry and provides over 100 protein rich recipes for you to choose from.
Terry Hope Romero has put together a book of recipes for every meal of the day, from breakfast, dinner, and dessert to snacks in between. Over 100 recipes in all, all providing satisfying protein, with gluten-free and soy-free options, too.
Protein Based Powders and Protein Additions
While not every recipe will contain a protein based flour, many do. These include hemp, rice, and pea-based protein powders, not enough to give an all out flavor to the dish but enough to boost the protein levels in the dish. Other ways she gets in protein in her Protein Ninja recipes is by using beans, seeds, nuts, seitan, and tempeh. Protein additions you may be familiar with, and others may be new to you.
Book Overview and Chapters
Part One is all about the basics. Romero goes into detail about the different protein powders in her book and tips on using them in recipes. She gives a great primer on cooking and freezing both beans and grains, and includes basic recipes for cooking beans, quinoa, and short-grain brown rice, all staples in any kitchen. Instead of purchasing seitan, try your hand at making it at home. She gives a detailed recipe on how to make your very own batch using vital wheat gluten flour which yields about 32 ounces. She also throws in her recipe for her My Best Coconut Bacon – yes, snackable bacon made with large, unsweetened coconut flakes.
The chapters begin with Smooth Bowls and Granola and finish with Sweet Treats. In between you'll find Stealthy Protein Pancakes, Waffles, and Much Much More; The Protein Bakery Basket; Super Toast: Savory and Sweet; Protein-Packed Patties and Burgers; Better Than Ever Burger Bowls; and Grain and Noodle Bowls. She includes metric conversions and a complete index at the back.
Favorite Recipes
Yes, I have a few in this book. The first is Fluffy Rice Protein Drip Biscuits. I love biscuits, and pairing them with a simple vegetable stew is so yummy but pairing it with a protein-laced biscuit makes it so much more satisfying. Another one is the Black Bean Hemp Burger Bowl with Refried Corn Quinoa and Mango Chia Salsa. The refried corn quinoa is almost like a quinoa stir fry with cilantro, red bell peppers, roasted corn kernels, and smoked paprika.
The Button Up White Bean Gravy is a must try, and the recipe is below. She writes that this is a necessary breakfast or brunch staple, but I'd add that this dish is so comforting it would also make a great dinner meal, too. Serve as is over biscuits or as suggested in the picture with sautéed mushrooms and grilled or sautéed seitan or tempeh strips. Either way it will satisfy you anytime of the day.
Overall, a really great cookbook if you are wanting to increase your protein take. Recipes are easy to follow, and if you are familiar with any of her other books (Vegan Pie in the Sky, Vegan Eats World, Salad Samurai) you'll know that the recipes are all delicious, too.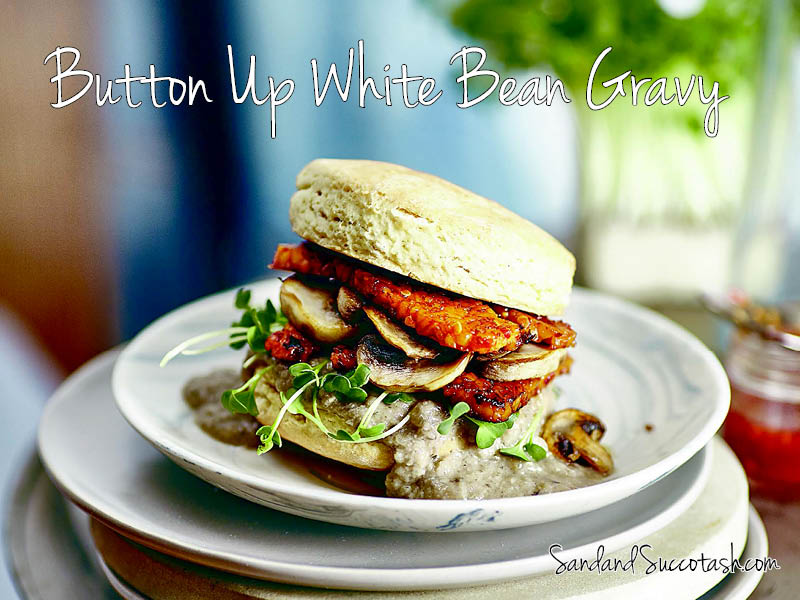 Button Up White Bean Gravy
2016-03-19 12:51:05
Ingredients
2 tablespoons extra virgin olive oil
1 cup diced yellow onion
3 garlic cloves, peeled and chopped
6 ounces white button mushrooms, roughly chopped (2 cups)
1 tablespoon tamari
2 tablespoons unbleached all-purpose or garbanzo bean flour
1 (16-ounce) can navy beans, drained and rinsed
1 1/2 cups vegan vegetable broth
1 teaspoon dried thyme, or 1 tablespoon fresh
Freshly ground black pepper
Salt (optional)
Instructions
Heat the oil in a large saucepan over medium heat. Add the onion and garlic and cook for 3 minutes, stirring frequently, or until the onion is translucent. Stir in the mushrooms, sprinkle with the tamari, and cook for 5 minutes, stirring frequently, or until the mushrooms are tender but
still juicy.
Decrease the heat to low and stir in the flour. Cook, stirring constantly, for 2 minutes, or until the mixture turns slightly beige, is bubbly, and appears to have grown in volume.
Notes
The gravy can be made up to 2 days in advance and refrigerated, tightly covered. Reheat it over low heat, stirring occasionally.
Sand & Succotash http://www.sandandsuccotash.com/
Book Information:
From Protein Ninja: Power Through Your Day with 100 Hearty Plant-Based Recipes that Pack a Protein Punch by Terry Hope Romero. Reprinted courtesy of Da Capo Lifelong Books.
Disclosure: This book was provided by the publisher and any opinions are my own. Affiliate link and ease of purchase by Amazon.