Hijiki is a marine seaweed that is found at specialty markets in its dried form. It can be reconstituted and used in many recipes, like salads and soups.
Reconstituting Dried Hijiki
A 2 oz. portion of dried hijiki roughly needs about 1 1/2 to 2 quarts of water. Place hijiki in a large bowl, add water to cover and let soak for about 30 minutes.
Drain in a colander or a sieve to remove the soaking water, pressing on the seaweed to release any extra water. Rinse again in cold running water, and drain thoroughly.
It is ready to be used in recipes. Hijiki swells to about 2 to 3 times the volume of dried hijiki when properly soaked.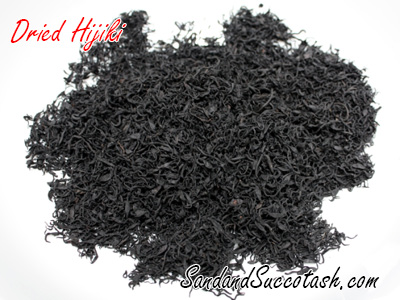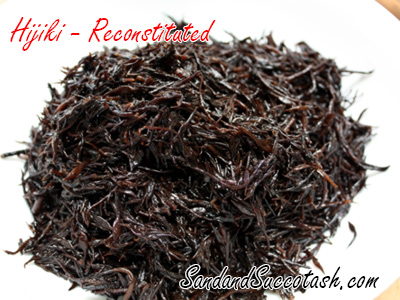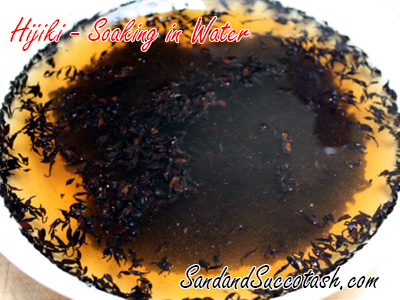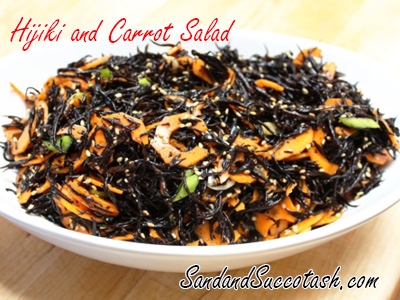 Hijiki and Carrot Salad: Spiral-Cut Carrots with a Sesame Pineapple Dressing
2015-01-17 16:18:18
Ingredients
1 2-ounce package of dried hijiki seaweed
3 large green onions, sliced on the diagonal (green and white parts)
2 cups spiral cut carrots, or thinly sliced carrots, see step 2 below
For the Sesame Pineapple Dressing
4 1/2 tablespoons seasoned rice vinegar
2 tablespoons toasted white sesame seeds
1 tablespoon sesame oil
2 tablespoons pineapple juice
1 1/2 teaspoons sugar
1 teaspoon soy sauce
1/2 teaspoon salt
Instructions
For Dressing: Mix all the ingredients together in a mixing bowl. Use for the hijiki salad.
Place the hijiki in a large mixing bowl. Add about 1 1/2 to 2 quarts of warm water over and mix. Let set uncovered for about 30 minutes, to reconstitute the dried seaweed. Once soft, drain in a colander or a sieve, and rinse with water. Drain again thoroughly and place in a mixing bowl for the salad. Add the green onions.
Spiral cut the carrots: Using a spiral slicer, spiral-cut 3 to 4 inch lengths of carrots, enough to make 2 cups. If the spirals are very long then break up the lengths into smaller pieces. If no spiral slicer is available, simply cut the carrots in half and slice thinly on the diagonal. Use 2 cups of sliced carrots for the recipe. Top the vegetables with the Sesame Pineapple Dressing, and toss to coat. Serve cold.
Sand & Succotash http://www.sandandsuccotash.com/