Market black box: tomatoes.
What I did with them: made a tart.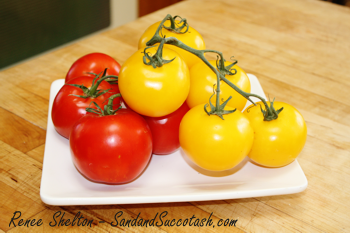 If you have a tomato bounty from your garden or your local market, make a tomato tart. I used mozzarella, but other grated semi-soft cheeses would work equally as well: fontina, provolone, even Swiss cheese.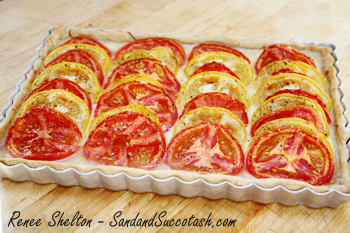 Here's how I made mine.
Tomato and Mozzarella Tart
2015-01-17 17:13:22
Ingredients
Pie crust, enough to line a 8" x 11" square tart mold
About 6 medium tomatoes, sliced (I used half yellow and half red tomatoes)
About 1 1/2 cups shredded Mozzarella cheese
Kosher salt and freshly ground black pepper
Extra virgin olive oil for drizzling, optional
Instructions
Line the tart mold with the pie crust, and press in the sides. Sprinkle the cheese evenly over the bottom of the tart pan. Lay the sliced tomatoes evenly over the top. Sprinkle with kosher salt and fresh ground pepper.
Bake in a preheated 350 degree oven until the crust is browned, and the tomatoes are lightly browned.
Remove from oven and let stand for about 30 minutes or more. Lightly brush a little olive oil over the top before serving.
Sand & Succotash http://www.sandandsuccotash.com/
Step by step: