Frozen baby Lima beans are simmered in a sauce flavored with red wine, beef stock and vegetables and enhanced with a little bacon.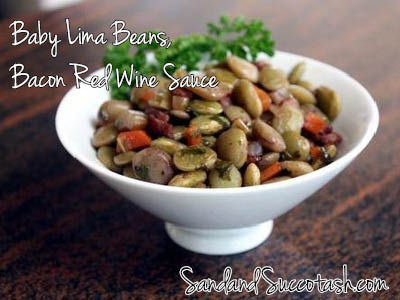 If you are looking to increase your legume intake, here is a great recipe to try using Lima beans. Lima beans are a flavorful and nutritious legume, and found in many forms: frozen, dried, canned, or harvested fresh from the garden. When purchasing canned Lima beans, take a look at the label as they are often prepared and sold in a ham sauce. Lima beans go well with other vegetables, and like all legumes, can combine with grains, nuts, seeds, and even dairy products, to make a complete protein.
This recipe uses bacon to give them a slight smoky flavor. Make it meatless and omit the bacon, if desired. If going vegan for this dish, replace the green onions with yellow onions, and begin with 3/4 cup of them in the pan with 1 tablespoon of canola oil. Lightly brown them slowly over medium heat before adding the carrots and celery. The onions will help give a natural sweetness to the dish that the bacon provided. Use vegetable stock in place of the beef stock.
This recipe makes about 6 servings as a side dish, or about 4 servings as a main dish, depending on serving size.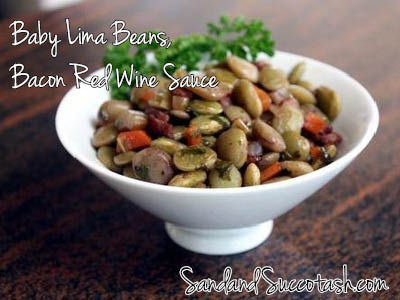 Baby Lima Beans in a Red Wine Sauce
2015-01-17 19:56:40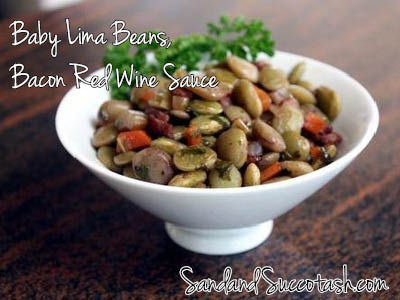 Ingredients
3 slices thick-cut style bacon, chopped (about 2/3 cup)
1/2 cup diced carrot
1/2 cup diced celery
1/2 cup red wine
1/2 cup beef stock
1 1-lb. package of frozen baby Lima beans
5 green onions sliced, white parts only
3 tablespoons chopped fresh parsley
1/4 teaspoon paprika
1/4 teaspoon dry mustard
Black pepper to taste
Instructions
Cook the chopped bacon in a large, heavy saucepan over medium heat until lightly browned and crisp. Use a slotted spoon to remove the bacon from the pan. Pour out all but 1 teaspoon of the bacon fat from the pan.
Add the diced carrot and celery to pan. Cook for about 3 to 5 minutes until the vegetables are tender-crisp and light brown in color.
Pour in the red wine and beef stock. Add in the Lima beans, green onion, and parsley. Sprinkle in the paprika and dry mustard, and add black pepper if using. Increase the temperature to medium high to bring the beans up to a boil, then reduce heat to bring the beans down to a soft simmer. Cover the pan and cook for about 20 minutes, or until the beans are done to the desired tenderness.
Serve warm.
Sand & Succotash http://www.sandandsuccotash.com/