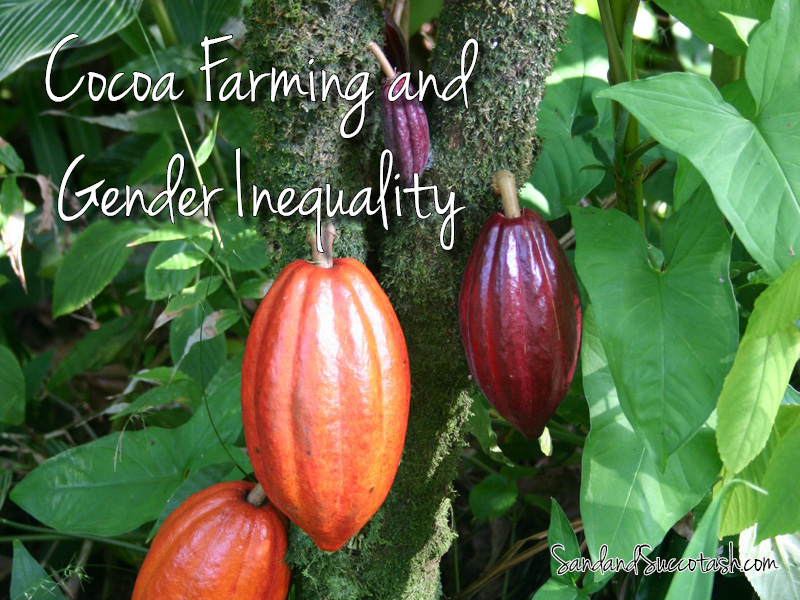 I just posted an interesting link on the Pastry Sampler blog on gender inequality and the chocolate front. What I found from an article on Confectionery News was that while women can be trained with all the technical knowledge of cocoa farming, in certain parts of the world they may not be able to own land, or real property. Without being an actual land owner, some suppliers will not engage in business, creating an unfortunate circle that many women cannot break from.
The World Cocoa Foundation published a presentation Innovations in Sustainability PPP – Women and Cocoa Farming: "Bridging The Gap." In it was a chart that had the gender breakdown of land ownership and labor in West-Africa cocoa farming households. While women took up 85% of the food crop labor, they only owned 25% of the cocoa farms. This is what they called a "circle of exclusion."
And in some cases, women must hire laborers to do work they are able to do themselves, which eats away at profits they might otherwise realize if they did the work.
From Oxfam International, an organization fighting worldwide poverty, and Gender inequality in cocoa farming in Ivory Coast:
Some of the challenges facing women in the Ivory Coast are cultural. Even though women are regularly involved in 12 of the 19 key stages in cocoa production, and play a lead role in tending the young cocoa trees and performing post-harvest activities, cocoa farming is considered by some to be "man's work" off limits to women. The result is that at times women must rely on male laborers which can eat away at their income.

"Women don't really do the cocoa work," says Etchi Avla a 43 year-old mother of five who owns and manages her own cocoa farm in Botendé, a small village on a dirt road about 90 minutes from the nearest paved road. "From the very beginning it has always been men ever since the field has been there and when I needed to take care of it then I would call the men. My biggest problem is to prepare the field and encourage the men and thank them." Because many tasks are considered by some to be men's work, Alva relies on a male laborer, with whom she shares her crop at harvest time—she keeps two-thirds, and the laborer gets one-third.
Women are not only constrained or limited by their ability to own the land in some countries, but also the right to work the cocoa farm land.
Resources:
World Cocoa Foundation, ed. "Women and Cocoa Farming: Bridging the Gap." Innovations in Sustainability PPP. World Cocoa Foundation, n.d. Web.
"Gender Inequality in Cocoa Farming in Ivory Coast." Ed. Grow. Food. Justice. Planet. Oxfam. Oxfam International, n.d. Web.