What's the best way to save on your monthly grocery bill? Use up everything you can and throw as little away as possible. If you need a little help in this area, Eat It Up! comes to the rescue with produce insights, pantry tips, upcycling scraps recipes, and how to use up every bit of that whole chicken you came home with.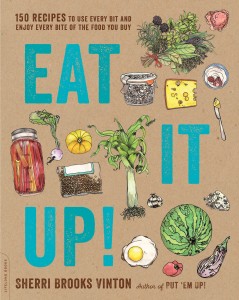 It isn't just a way to save money, though. Food waste is a growing problem everywhere, and is sometimes exemplified when there isn't a market for the good, nutritious, and completely edible by-product food that gets discarded. For example, Vinton writes:
Cauliflower heads are plucked from the center of the plant, the abundant wreath of nutritious leaves that surround it – pounds of fresh, nutritious food – are left to rot on the ground. They're readily available and taste great, but there's no market for them, so they go uneaten.
Other reasons to fully utilize what you've got: saves time; tastes great; preserves natural resources; gives farmer's kudos; maximizes farmland productivity. The author suggests ways to reduce food waste in the way you actually shop – by buying directly from the grower, and looking for ugly foods (seconds and misshapen produce) and 'trash' fish (by-catches).
Eat It Up! Overview
The book is presented in 5 different sections with each one a great source of info. What's Up with Eating It Up chapter is the 'why and how of reducing food waste in your home kitchen.' Nose-to-Tail Produce is a great chapter, and in it there are lots of great tips and suggestions on how to fully use up all the produce scraps you might typically throw out. The Whole Beast helps with the concept of using up the whole animal. Rendering fat, purifying drippings, using up bones, and storing and freezing extra eggs are all covered. The Pantry section gives your last bit of jam or pickles one last use before recycling the jar. A Little Extra – Upcycling has a few recipes to use up leftovers in the refrigerator.
Using Up Every Bit From What You Already Have
While clean eating may be a great start to healthy eating, using up every bit of what we buy or harvest saves on food waste. Food waste is a chronic problem, and controlling what we toss at home is a major step in reversing that trend. Namely, eating eat up what we already have instead of throwing it out.
Watermelon rinds are a prime example in our household. We eat a ton of watermelon during the summer months (even our two boxers are watermelon lovers) and we discard all the edible rind every single time. It's edible, but what can it be used for? Peel off the green outer skin and dice it up for chutney or pickles.
The recipe below transforms watermelon rinds into a refreshing pickle salad. Salty, sour, sweet – all these flavors blend for a great dish that goes perfect with steamed fish or grilled chicken. Delicious.
Thai Rind Salad
2016-07-28 13:17:43
Ingredients
2 cups watermelon rind, cut into matchsticks (just the white part)
1/4 cup rice vinegar
2 tablespoons freshly squeezed lime juice
1 teaspoon nam pla (Thai fish sauce)
1 teaspoon soy sauce
Pinch of salt
Pinch of granulated sugar
1/4 cup neutral oil, such as organic canola
1 large cucumber, peeled, seeded, and cut into matchsticks
1 shallot, sliced thinly, rinsed, and drained
Pinch of red pepper flakes
1/4 cup chopped peanuts
1/4 cup chopped fresh cilantro
Instructions
Blanch the watermelon matchsticks. Drop them into a small pot of boiling water and simmer for 60 seconds. Use a slotted spoon to transfer them to a colander. Rinse under cold water. Drain, blot dry, and set aside.
In a medium-size bowl, whisk the lime juice, nam pla, soy sauce, salt, and sugar until the salt and sugar are dissolved. Gradually whisk in the oil. Add the blanched watermelon rind, cucumber, shallot, and red pepper flakes. Toss to combine. Garnish with the peanuts and cilantro. Serve immediately.
Adapted from Eat It Up! by Sherri Brooks Vinton
Adapted from Eat It Up! by Sherri Brooks Vinton
Sand & Succotash http://www.sandandsuccotash.com/
Book Info:
Eat It Up! by Sherri Brooks Vinton.
Da Capo; 2016.
ISBN13: 9780738218182
Disclosure: This book was provided by the publisher and any opinions are my own. Affiliate links help to support this site. 🙂
Excerpted from Eat It Up!: 150 Recipes to Use Every Bit and Enjoy Every Bite of the Food You Buy by Sherri Brooks Vinton. Copyright © 2016. Available from Da Capo Lifelong Books, an imprint of Perseus Books, LLC, a subsidiary of Hachette Book Group, Inc.