I'm always skeptical of fad diets, especially one that revolves around a food. But the sweet potato is an amazing vegetable. So when I had the chance to read The Sweet Potato Diet by Michael Morelli, I was instantly intrigued.
Morelli's story is written from the heart, and he really brings you into his kitchen by sharing his journey. He wasn't always fit, wasn't always 'together', and soon realized that all those fad diets he was putting himself through weren't working. Getting healthy starts on the inside, what you put into your body, and Morelli devotes much of the book with educating the reader about basic nutrition. And about carb cycling, and the benefits of the sweet potato.
What is So Special About the Sweet Potato?
Sweet potatoes are a great source of Vit A, Vit C, are full of manganese, calcium, potassium, iron, Vit B6, and are a wonderful source of beta carotene. Sweet potatoes are also roots (or root tubers), as opposed to regular white potatoes which are tubers (or stem tubers). According to Berkeley Wellness, roots are the parts of the plant that grow downward, anchoring the plant, absorbing moisture and nutrients. Tubers form at the base of roots and store energy in the form of starch to support new stem growth.
Sweet potatoes are also anti-inflammatory and have a low glycemic index. And, the high amount of fiber the vegetable contains can help you feel full aiding in weight loss by keeping you satiated throughout the day. Because of its nutrient dense make up, the sweet potato is the perfect choice for a carb cycling diet.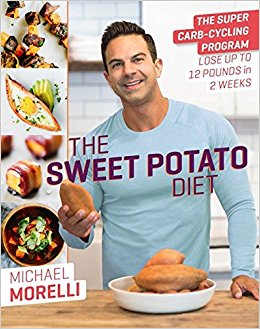 What is Carb Cycling?
This is the meat-and-potatoes of his diet plan. Restricting carbs can help you lose fat and water weight, but over long periods of time your metabolism can fall. Rather than avoiding carbs or simply reducing carbs, Morelli harnesses the power of carb cycling. In essence, you are shocking your metabolism into fat burning mode.
He writes:
This diet never deprives your body of carbohydrates long enough to allow your metabolism to slow down. The high-carb days are designed to increase you metabolism and prime your body to burn fat on the lower- and no-carb days. On these days, your body switches from burning carbohydrates to catabolic fat burning, actually burning its own stored fat and using it for fuel.
The Sweet Potato Diet Carb-Cycling Cookbook
The Sweet Potato Diet cookbook devotes much of its pages to nutrition and how carb cycling works. The four parts to the book: Part 1: The Prep Phase; Part 2: The Carb Cycling Phase; Part 3: The Recipes; and Part 4: The Path to Long Term Health Benefits. There is a handy food log included to help keep track of food intake. This book isn't a guide on how to avoid carbs, it shows how to use them wisely and to your advantage. And through the recipes, Morelli showcases real food, without a lot of heavy processing – meaning start cooking at home for best health.
A great book for anyone wanting to try carb cycling but needed someone to hold your hand through it. Morelli includes three different cycles and shows you how to portion food effectively.
I'm sharing one of my favorite recipes from the book, Fried Sweet Potato Rice. Make it for breakfast, lunch, or dinner.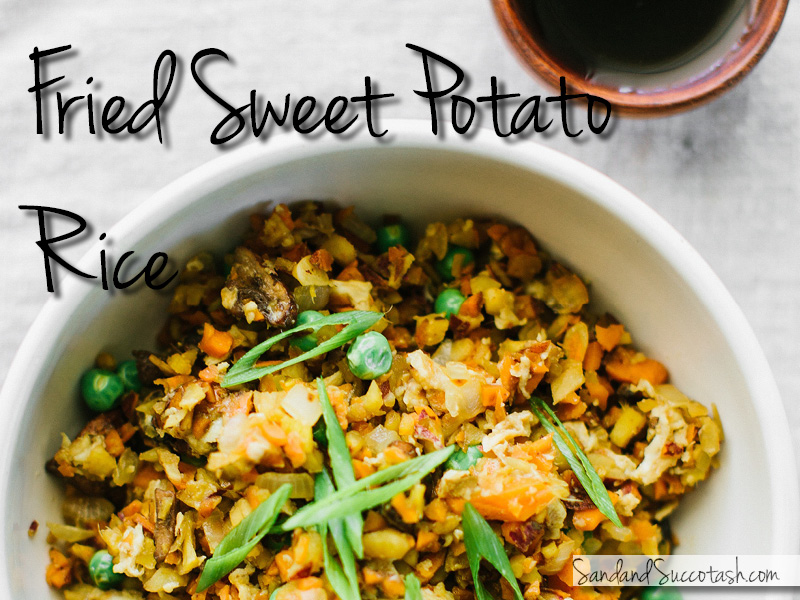 Fried Sweet Potato Rice
Ingredients
1 medium sweet potato

1 small onion, chopped
3 small mushrooms, chopped
1 clove garlic, microplaned
1/2 inch piece of ginger, microplaned
"Soy" sauce (Bragg or coconut liquid aminos)
Instructions
Quarter the sweet potato and place in food processor. Pulse until it has a "rice" look to it.
Spray coconut oil in a skillet and add the sweet potato. Cook for just a few minutes and add the onion. Stir another few minutes, then add the garlic, ginger, peas, and mushrooms.
Let all of that cook down for a few more minutes, then drizzle the liquid aminos over everything. Push all of that to the side and add the eggs. Gently swirl the eggs as they cook and then slowly start to stir the rest of the pan into the eggs. Once the eggs are no longer wiggly it's done.
Notes
How to use it in your sweet potato cycle: This meal serves as 1-2 servings of carbs, a little less than a serving of fat, and three-fourths of a serving of protein.
Note: If you grab and use a sweet potato the size of your fist, you can be sure it's one serving of carbs.
Book Info:
Excerpted from The Sweet Potato Diet: The Super Carb-Cycling Program to Lose Up to 12 Pounds in 2 Weeks by Michael Morelli. Copyright © 2017. Available from Da Capo Lifelong Books, an imprint of Perseus Books, LLC, a subsidiary of Hachette Book Group, Inc.
Disclosure: This book was provided by the publisher and any opinions are my own. Any affiliate links help support this site. 🙂