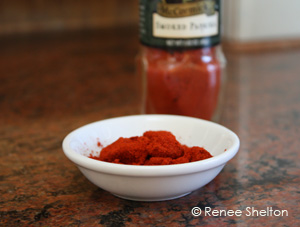 The moment I first smelled it, I fell in love. I imagine it could be added to anything with its slightly sweet and smoky aroma and deep reddish color. If it were a person, I'd imagine him to be a tall, dark, deeply fascinating individual. I'm talking about smoked paprika
, and since finding this jewel, I use it frequently as an ingredient (like a BBQ rub) or as a sprinkling on foods needing a pick-me-up (like Belgium endive and hummus).
Smoked paprika is also a main ingredient in Romesco recipe, a Spanish sauce that I use for just about anything: a dip, a topping, or an accompaniment to pan-seared airline chicken breasts (yum!). There are all kinds of Romesco sauce recipes, and you'll often find a cook with his or her recipe thinking theirs is the best. Which is what I love about it: it is adaptable to suit any taste. I think of it as my Latin-style red 'pesto' sauce, and I often change it up with the addition of different spices, herbs, or other ingredients.
Some common ingredients you'll find in a Romesco sauce: paprika (smoked or plain), bread (toasted or stale), garlic, roasted chile or bell peppers, tomatoes, and always – a type of nut. The recipe is also an excellent way to use up any leftover roasted garlic you may have from the night before. I like to use roasted Anaheim chilies in my Romesco. There isn't too much heat to them and they have a lot of flavor.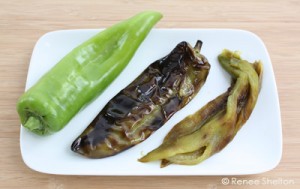 Before I add chiles to the Romesco sauce, I roast them in the oven. If you've never roasted peppers before, it's about as simple as 1-2-3.
Drizzle peppers with cooking oil and rub to coat.
Place them on a sheet pan under the second highest rack in the oven under the broiler element, and broil until burned on all sides, turning frequently to prevent flare ups, and to ensure all sides are toasty.
Place in a plastic zipper bag, seal to let it sweat, and allow it to cool until you're able to handle it. Then peel and seed.
For a quicker Romesco, use roasted red peppers from the deli.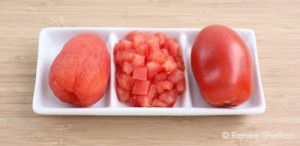 Some recipes call for canned crushed tomatoes, but it is just as simple to use fresh tomatoes. I make tomato concasse. For those unfamiliar, it's just diced seeded and peeled tomatoes. I like plum (paste) tomatoes for concasse – Roma or San Marzano – since I get more flesh for the pound. Whole canned tomatoes are a short cut method, just seed them and chop them up. Variations: just take a pound of tomatoes and oven roast them until caramelized. Remove the skins before processing with everything else.
Note: for this recipe, I've tried it both ways: toasting the nuts and using them untoasted. It's tasty both ways, in case you're curious, so if you're in a rush and don't have tome to toast them, don't worry.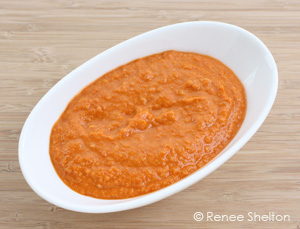 Romesco Sauce with Roasted Peppers and Smoked Paprika
2015-01-17 16:11:07
Ingredients
1/3 cup sliced blanched almonds
4 garlic cloves, roughly chopped
A couple of tablespoons canola oil (for toasting nuts on medium high heat)
1 cup cubed baguette
1 pound tomatoes (about 5 medium Romas) blanched, peeled, seeded, diced
1 Anaheim chile, roasted, skinned and seeded
1/4 cup olive oil
3 to 4 tablespoons red wine vinegar
1 tablespoon smoked paprika
1 teaspoon salt
Instructions
Heat a frying pan over medium-high heat and add the canola oil. Sprinkle in the the nuts and stir them until browned. Add in the chopped garlic and cook until fragrant, about a minute.
Add everything in the bowl of a food processor, and whirl until blend. Taste, and add in additional red wine vinegar and salt, if needed.
Sand & Succotash http://www.sandandsuccotash.com/