At the root of most diseases or chronic ailments such age-onset diabetes, high blood pressure, and atherosclerosis lies a major cause – poor eating habits and a diet filled with overly processed foods. Mark Reinfeld offers his solution and an alternative way to gain better health through his unique 'food-as-medicine' approach with Healing the Vegan Way.
Reinfeld holds a master's degree in holistic nutrition and he uses his knowledge of plant based nutrition to create meal plans, recipes, and ways to set up your kitchen for natural food preparation success. In addition to this being a cookbook, Healing the Vegan Way introduces the reader to a more healthy way of life with Reinfeld's "slices of the pie of our life." Truly great advice for anyone.
Healthy plant-based diet – moving from processed foods and animal products to plant-based foods.
Moderate exercise – to strengthen you from the inside and increase energy levels.
Positive attitude – negative attitudes often create unhealthy patterns.
Adequate rest and meditation – not just getting enough sleep, but partake in ways to calm your stressful life.
Periodic cleansing – to give your digestive system a rest.
Engaging community and social life – to support healthy lifestyle practices.
Book Overview
The book is separated into two parts. Part One: The Healing touches on preventative health issues, nutritional theories, and different popular diets. Sprinkled throughout this section is The Experts Speak and Healing Stories with information and advice from people who are experts in their respective fields and stories of real people positively affected by plant-based diets. Many diets are explained here, and as the author points out, many are diametrically opposed to each other. This is where the author goes into what the base of every menu should grow on and the many benefits of eating raw whole foods. Vegetables, fruits, seeds, nuts, grains, herbs and spices, and superfoods are all talked about in detail.
Part two has all the recipes, and there are 200 different ones to try. Before dishing out the different recipes, Reinfeld shows how you can prepare your kitchen, use proper cooking techniques, and stock your pantry for cooking success. You'll see 'template recipes' throughout the book. These are unique recipes that enable you to change the recipe with whatever you have on hand at the moment.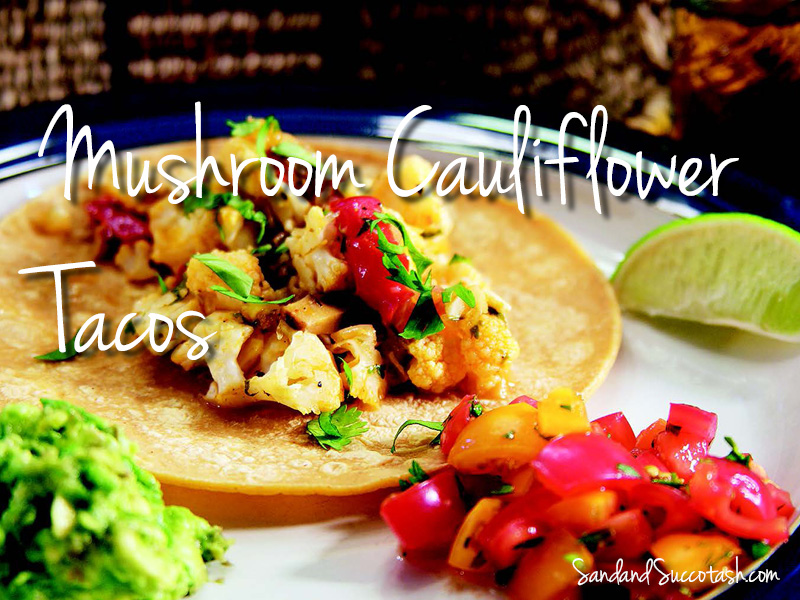 Healing the Vegan Way Recipes
The recipes are all plant-based. You will find a little of everything from breakfast dishes, spice mixes, elixirs, main dishes, and sweet snacks. Basic recipes like Truffled Cashew Cheeze, Raw Brazil Nut Parmesan, Homemade Granola, and Simple Vegan Cream Sauce make Healing the Vegan Way a great go-to recipe guide for your daily menus. Great read. Enjoy the recipe from the book below.
Mushroom Cauliflower Tacos
2016-09-16 12:53:16
Serves 6
For a grain-free version, serve the filling in lettuce or cabbage wraps.
Ingredients
2 teaspoons coconut oil
1/2 cup diced yellow onion
3 garlic cloves, pressed or minced
1/2 cup diced red bell pepper
1 cup diced mushrooms (try shiitake, cremini, or button)
1/2 teaspoon sea salt, or to taste
1/8 teaspoon freshly ground black pepper
2 cups diced cauliflower
1 teaspoon chili powder
1/2 teaspoon ground cumin
Pinch of chipotle chile powder or cayenne pepper
2 tablespoons freshly squeezed lime juice
1 1/2 tablespoons minced fresh cilantro
6 vegan corn tortillas
Instructions
Place the coconut oil in a pan over medium heat. Add the onion and cook for 1 minute, stirring frequently. Add the garlic, bell pepper, mushrooms, salt, and pepper and cook for 3 minutes, stirring frequently.
Add the cauliflower, chili powder, cumin, and chipotle chile powder and cook until the cauliflower is just tender, about 10 minutes, stirring frequently. Add the lime juice and cilantro and mix well. Lower the heat to low to keep filling warm.
Warm the tortillas briefly by placing them one at a time in a dry sauté pan over high heat, flipping with tongs until just warmed through.
Place the mushroom cauliflower filling inside the tortillas, top with your condiments of choice, and enjoy!
Variations
- Add 1/2 teaspoon of seeded and diced jalapeno pepper and 1/2 teaspoon of paprika.
- Add 1/2 cup of chopped walnuts.
- Replace 1 cup of the cauliflower with diced tempeh or tofu.
- Replace the tortillas with hard taco shells.
Sand & Succotash http://www.sandandsuccotash.com/
Book Information:
Disclosure: This book was provided by the publisher and any opinions are my own. Any affiliate links help to support the site. 🙂